Galaxy Amethyst Cosplay is a teenage cosplayer from Chillicothe, Ohio. She travels to many different conventions and dresses as many different characters. For the last few years, Galaxy Amethyst has also added philanthropy to her convention visits.
In 2018, Galaxy Amethyst contacted W.A.G.S. 4 Kids wanting to support the organization after being asked to attend the 2018 Wizard World ComiCon in Cleveland. She has magnets and creates prints of her different cosplay roles and wanted to sell them at the Con for a donation to benefit W.A.G.S. 4 Kids.
Galaxy Amethyst at the Con in 2018
Wizard World Cleveland was held March 2-4, 2018 and during that time Galaxy Amethyst collected $143 to support W.A.G.S. 4 Kids' programs and services!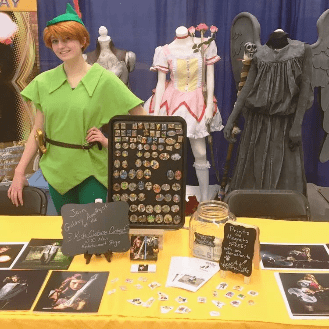 Galaxy Amethyst at the Con in 2019
Galaxy Amethyst was invited back to Wizard World Cleveland for 2019 and again chose to sell her magnets and prints to raise money for W.A.G.S. 4 Kids. In 2019, she raised $80 through her Kids Who Can! project.
Galaxy Amethyst using her skills, talents, and interests to benefit local children with special needs truly embodies the purpose behind our Kids Who Can! Youth Empowerment Program.